Vacation, Family, and Fun
We're back…
We're back from vacation, with lots of family and even more fun, and taking the month of July off. Yes, we actually took a vacation!
Vacation: a period spent away from home, work, service to rest and relax
And friends, our time away is exactly what Tim and I needed! We have been so busy this year. Tim was instrumental in the sale of the company and worked long hours, making sure all the t's were crossed and the i's dotted. We bought a new house and immediately did an addition and a bathroom renovation. In the midst of all this, we had several one-day intensives with clients and I had a full book of coaching clients. We also had our commitment to serve every Thursday evening at our church by leading groups. In addition to all the household, church, and business goings-on, we had numerous family events and travels planned for the month of July. Family time is always our number one priority.
With all the things taking place at once, it led us to realize that we needed to rest!
This Is How We Have Fun
So just what did we do on our fun-filled July vacation?
First, half of the month was all about family. We took a trip to DC, where we spent a week with our oldest son and his family. We enjoyed the cooler weather, sitting out front on the swing, morning coffee, long and relaxing lunches, entertaining baking sessions, and laughter-filled games with our granddaughters. And we certainly can't forget the grand dogs!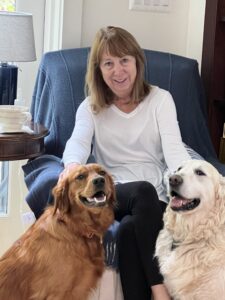 Birthday Fun
We arrived home in time to celebrate my birthday. There was brunch with our daughter, her husband, and our granddaughter, Journy. Our grandson Jackson was out of town. Next, we took time to clean out our garage, then got ready for a nice dinner out. While I really don't like the numbers going up, I do love celebrating my birthday. Tim always makes me feel more than special. He spoiled me with a few special gifts: a sunflower picture and pillow, celebration dinners (yes, more than one!), and flowers!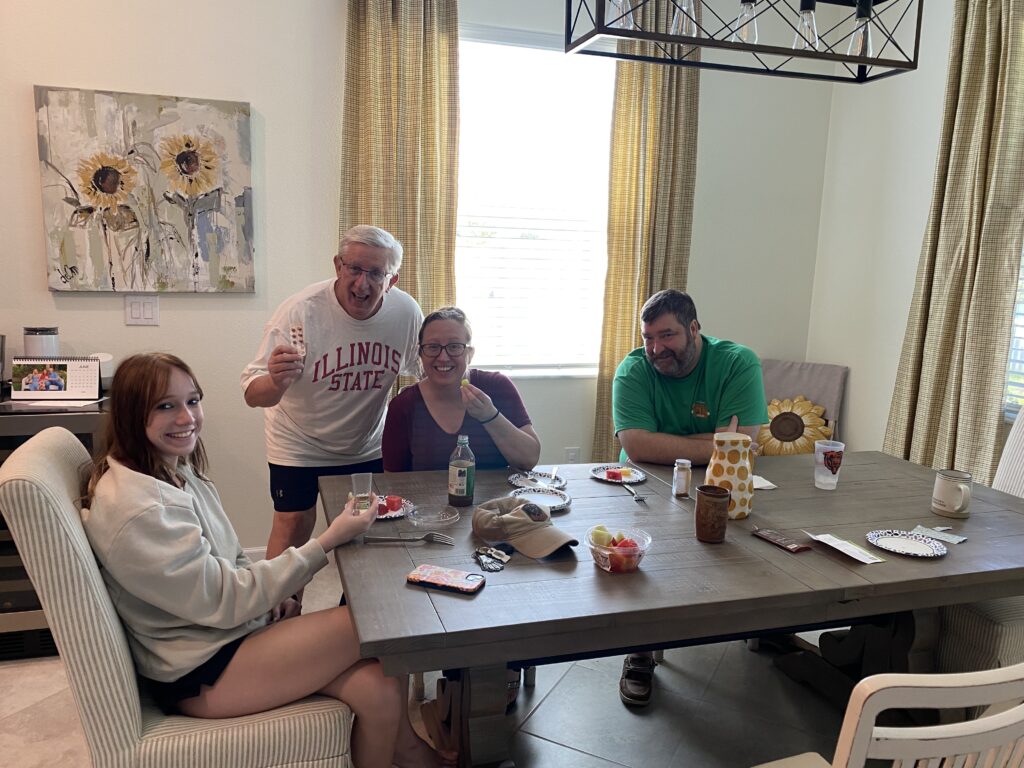 During all of this, our storage pod was delivered after 5 long years in storage. It was a good thing we cleaned out the garage! We had forgotten what was in it, it had been so long! Now it was time to consider – did we really need any of it? I don't remember once in those 5 years asking, "Where is _____?" The time came to rearrange the things we decided to keep and say goodbye to the rest! That, my friend, is a whole other subject!
Leaving on a Jet Plane – Again
Then it was time for another round of packing!! We were leaving on a jet plane again. This time, it was off to Atlanta to see our youngest son and his family. It was a quick weekend trip, but it was jam-packed full of fun and activities! Playing with the boys (5,3, and 1) sure kept us busy and on our toes. We also attended and thoroughly enjoyed a Braves game, and Tim, Pat and the two older boys played golf. Before we knew it, the short weekend came to an end and we headed back home. I had to prepare for the upcoming women's retreat I was facilitating the following weekend.
Claiming Victory
Claiming Victory Women's Retreat! Wow! I was amazed that 8 women trusted me to walk them through what was keeping them stuck, and leading them to breakthrough. Women moved from hopelessness to freedom, from needing courage to experiencing contentment, from uncertainty to knowing they are authentically loved – and much more. After three days, I was exhausted, but also energized! I just don't have the words to completely explain the feelings I have when God has worked through me. I am blessed.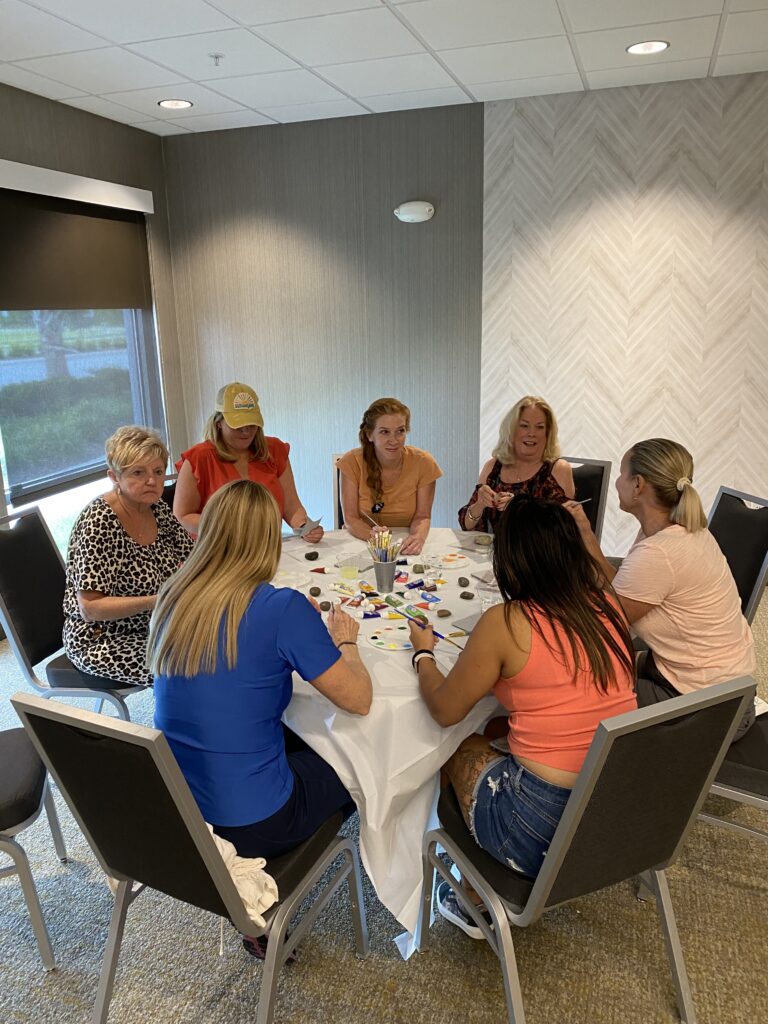 More Vacation Fun
After the retreat it was time to be on the road again. Yep, time to pack our bags one more time. This trip took us to Yosemite to meet up with some friends. It would be a strenuous and adventurous time for us. We hiked the trails in Yosemite, tested our limits with white water rafting, visited a national park with stunning sequoia trees, and finally headed to Paso Robles for some wine tasting. There were so many learnings through our explorations: on game nights, we learned everyone has their own rules they follow when playing games! I discovered I like adventure more than Tim, we both learned we do not enjoy long, treacherous curvy car rides. We also realized a perfect night for us is to sit on a rooftop and enjoy music. Although we thoroughly enjoyed our time with our friends – and it was great fun – sometimes we just needed to be alone. I could write so much more about this …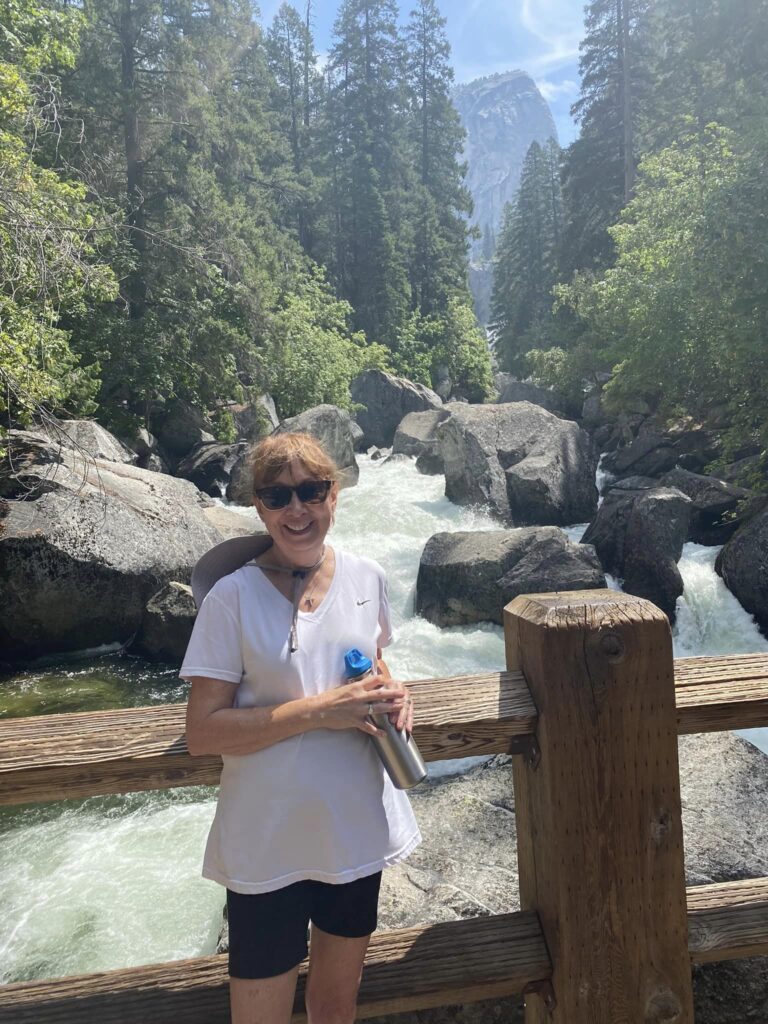 Our month off was completely full. We have so many memories to cherish and lots of fun and adventures to remember. We soaked up all the friendship and love, and treasured a different view from our everyday life. The only thing missing was rest and relaxation.
On-the-Go and Loving It
We are an on-the-go kind of family, but we wouldn't change a thing. Now it's time to get back to business!
Vacation, Family, and Fun!